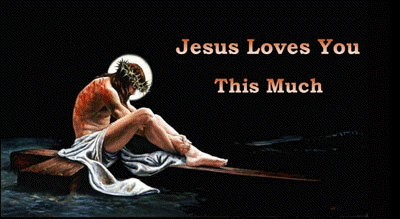 By Rev. Vic Vergara
E-mail:
viverg@yahoo.com
EPHESIAN 3:19

"And to know his love that surpasses knowledge, that you may be filled to the measure of all the fullness of God."

I would like to thank God for his wonderful love towards us. And all the leaders of this group for giving me time to share the Love of God. Really I feel so young today because my audience is mostly of teenagers. I love to preach to the young people like you.

My message today is all about "Understanding the Love of God." Don't you know that God loves you? He really cares for you. Only you must understand the Love of God. The love of God is a kind of love that will never fail you or forsake you. You also must be aware of the love from your parents. These are the two important points for you to understand. First, your parents love you so much. And second, God loves you so much.

But many young people today never understand the love of God or the love of their parents. Apostle Paul prayed that christians know the Love of God. Let us read our verse today, Ephesian 3: 19 "And to know this love that surpasses knowledge, that you may be filled to the measure of all the fullness of God." Apostle Paul understood the Love of God. He was changed by the Love of God. Apostle Paul said that we cannot measure the love of God. In Ephesian 3:18, the Love of God is higher than the mountain, wider than the universe, and deeper than the ocean. Do you know how to swim? Swimming? If you are under the ocean remember that the love of God is like ocean embracing you and overflowing in your life. Do you feel the love of God?

If I can make all the people in this world believe that God loves them, and if they understand the love of God, maybe the heaven will be crowded of so many people because they have understood that God loves them so much. But the problem today is that very few people realize the love of God and therefore many people are not at all bothered about God. If teenagers understand the love of their parents maybe they are very obedient to attend the middle school worship. Why there are many students who don't want to go to church? Their parents are pushing them to go to church but instead of going to church they go to some other places. They hide. If you understand the love of God maybe you will become devoted followers of Christ.

I heard a story about a mother dying for her daughter during the Korean war. The incident narrated in the story took place around the 38 parallel line, the boundary between the North Korea and The South Korea. Maybe you have already heard this story because you are Koreans. I like this story.

There are so many people in North Korean who do not want their Communist Government and and one such lady tried to cross the 38 parallel line along with many others, but the North Korean Soldiers shot them. They ran very fast but many people got killed. However some of them could cross over to the South border. Among those people who crossed the border was this mother carrying her new born baby girl. Because of the hunger and fatigue took a rest under a bridge. It was winter. The weather was very cold. Her daughter cried loudly because of the extremely cool weather. The mother with all her clothes, wrapped and embraced her baby tightly. Early in the morning, there was a couple heard the child crying. They stopped their car and look for the baby. They went down under the bridge and saw the child embraced by her dead mother. They took the child and adopt her as their daughter because they had no child.

When the girl grew up, she became bad and didn't want to follow the instruction of her parents. She didn't like attending any worship. Many teenagers today behave in the same way. They always go to internet and play games. They don't want to go to church. They don't want to follow their parents. I hope, you are not. The couple who adopted the girl not knowing what to do decided to tell the truth that she was only an adopted child. They told her the story of how they found her. They told her how her mother died for her. The girl then felt so sorry and regretted a lot and asked her parents parents to bring her to the place where her mother died.

The next day, they decided go to the place under the bridge. It was again winter season and very cold. The girl stood in front of the site where her mother died. She cried and cried, rolled over to a cold snow and shouted, "You have died for me so that I live. Mother I love you very much." The couple calmed her and carried her to their home. Since that time the girl changed her character. Why? Because she had understood the love of her mother, and the love of her adopted parents. she became obedient and a model child. Remember she changed because of the love of her mother.

But let me tell you that no mother's love is to be compared with the love of God. Think of the love of God when He gave His only Son Jesus to die for us. John 3:16 said, "For God so loved the world, that He gave His One and only Son, that whosoever believe in Him will not perished but have everlasting life."

Romans 5:8 said, "But God demonstrates his own love for us in this: While we were still sinners, Christ died for us." Do you understand the Love of God? If you really understand the Love of God you will become real christians. Real christian obey their parents. Real christians love God more than others. They are sincere and honest. Jesus said, If you love me, obey my commandments. As you love you parents you must obey them as well.

Before I finish, let me ask you once again, Do you really love God? Whatever it is, He still loves you. He always stands by you and cares for you, God will never forget you, He will always remember you. At the cross, Christ showed the Greatest love for the sinner. Christ died for us so that we might live. Christ was wounded and neiled to the cross so that we might be freed from the cluthches of sins. The Blood of Christ poured out so that we can come to Him and recieve forgiveness. He gives you and I eternal life. That is how God loves you.

Now, how to show that you really love God? We must serve Him by singing songs to God as expression of our Love, by going to church, by praying to him, by reading the Bible and obeying his word. So, from today let us understand the love of God and praise Him and become his children.

Let us pray. Holy God, our Father thank you for you love. Help us to offer our lives in loving you. Teach us how to understand your love. Help us to obey your commandments. We want to share your love to others. This is my prayer in Jesus Name. Amen.