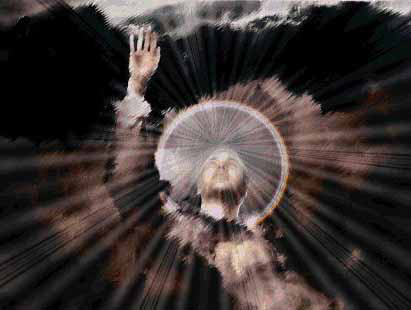 By Rev. Vic Vergara
E-mail:
viverg@yahoo.com
Ephesian 2:8-9
Excerpts:
"For it is by Grace you have been saved, through faith, and this is not from yourselves, it is the gift of God, not by works so that no one can boast."

Introduction:

It is only By the Grace of God I am standing in front of you. Only By the Grace of God I can understand the message of the Bible. By the Grace of God I am saved, I am healed, and I have eternal life. By the Grace of God, I become a minister of the Gospel. And by the Grace of God I have victory over the power of satan and sin. Why I always used the phrase "By the Grace of God?" What do we mean by the Grace of God?

It is means that I am not worthy to serve God. Perhaps I am a religious man, believed in God and I have done many good things, but I am a sinner. Still I live apart from the Grace of God. I am nothing. I am useless and condemned to hell. But because of the Grace of God my life changed from unworthiness to a worthy servant of God. I am now belong to Jesus, the Son of God. What is the Grace of God? It is the love and favour of God towards men or it is the unconditional love of God to the sinners. Through the Grace of God, He wants to reach out all mankind. the content of the Grace of God is Love and forgiveness. "For God so love the world that he gave his one and only son, that whosoever believe in him shall not perish but have eternal life." John 3:16

There are so many classification of the Grace of God according to some bible teachers, but I classify the Grace of God into three kinds.

I. THE COMMON GRACE - Romans 5:20 "The law was added so that the sin might increase. But where sin increase, Grace increase all the more."

A. Where sin increase, Grace increase all the more. God is working through the common grace. Whether you like it or not, the sun shine, the rains fall, for the benefit of the sinners and the righteous. All the creation of God, fruits and vegetables, the fresh air, the wealth of this world are also received by those people who are not recognized Him as their God. But still God never destroy them, God still love the sinners.

Sin enter into the world through the disobedience of Adam. The first Adam brought death to all mankind. According to Romans 5;12 " Therefore just as sin entered the world through one man, and death through sin, and in this way death came to all men, because all sinned." Man is separated from God. There is a big gap between man and God.

Man cannot come to God by means of good works. Or by living morally upright, or by going to church, or by giving so much money to help the poor. Man cannot reach God by means of Religion. Religion is the process of seeking God. Each religion introducing certain God but we cannot sure if it is the true God. It is impossible that man can surely find the invisible God. Because religion cannot find true God, they represented God with idols. Christianity is a religion of Grace because christianity is the process that God is seeking man, through Christ. Luke 19:10 Jesus said, I came to seek and to save which was lost. Man is lost and separated from God. Unless God found him man still has no rest and peace in his heart.

The sinfulness of man and the Holiness of God set them apart. The gap between man and God is very wide. It is going to hell. Unless someone put a bridge we cannot come across the gap. Jesus is the only way, the cross of Jesus is the only bridge over the gap. Through Jesus Christ we can come to God, and bring us home into his kingdom.

B. The Common Grace of God is granted to all people, whether good or bad.

The problem of this Grace is that people continue to commit sins against God. People become unthankful to God. Those people who are good in this world, who are helping the poor, who are serving the people, who are making religious missions to the world, still living apart from God. They receive appreciation from other people, and sometimes other people worshipped them because they are like god, other people made them statue or monument after they died, these people who used the grace of god in favour of themselves only knew the common grace of God. The common grace is given to all mankind but because men is so sinful and proud, all the glory from other people they receive they cannot return those glorious praise to the living God.

The common grace is the influence of the Holy Spirit to all people who hear the truth but few are convicted and repented to return to God. the work of Grace is the work of the Holy Spirit. John 16:8, When He comes, he will convict the world of guilt in regards to sin and righteousness and judgment." The common Grace is the means so that those person who are sinners will someday return to God.

II. THE SAVING GRACE- Ephesians 2:8

"For by grace you have been saved, through faith and this is not from yourselves, it is the gift of God.

A. The saving grace received by those who believe the Gospel of Christ.

The Gospel is a system of Grace. Through preaching of the Gospel, God is demonstrating his grace. Only few response to the Gospel. Only few understand the gospel of salvation. Only few received Christ as the gift of God. Only few are saved. Why? Because Salvation is the gift of God. Many people don't want to receive the gift. they make an addition to that gift by adding good works. They wanted to help God and they wanted to say to God that they are a part of that gift. I want to illustrate this gift. During christmas day, many of us receive a gift. There was a man who wanted to receive a gift from his friend. He said to his friend, "My friend please give me a gift this coming christmas day. I will gift you a half of the price of that gift and the remaining half you should pay. then on christmas day you give to me this gift." Its terrible if someone gave you a gift but you also gave some money to buy that gift.

Jesus is the Grace of God. We are saved by Grace through faith in Jesus Christ. Jesus is the perfect gift of God for our salvation. The crucifixion and the death of Christ on the cross of Calvary is a total payment of God to save us from sin and the bondage of satan. Those who believe on the finished works of Christ and Truast him shall be saved. They were received the saving grace of God.

B. Saving Grace received by those who believe in the Saving Works of Christ.

Before we are saved, common grace is operating in us, through moral laws, civil laws, and religion. When we heard the Gospel of salvation, the Holy spirit convicts us of our sins. We return to God by accepting our Lord Jesus Christ. Then the saving grace of God flows into our lives. Because of the saving grace of God, we have learnt how to forgive, how to love, and how to live a holy life.

Those who receive the saving grace of God always give thanks and worship God wholeheartedly. When they receive appreciation from other people, they immediately give all the glory to God, who saves them.

III. THE SUSTAINING GRACE- 2 Corinthian 12:9

"But he said,'my grace is sufficient for you, for my power is made perfect in weakness."

A. Christians still have failures.

Apostle paul prayed three times to God to deliver him from his weakness but God allowed him to remain in that situation to know more about this sustaining Grace. In times of trials and temptation, sometimes christians failed but the sustaining Grace of God help us to recover and totally trust the power of God.

B. Christians become victorious through the sustaining grace of God.

Each of us have faced some problems. Maybe some of us wanted to stop going to church. Some of us still irritated by our own attitudes, sometimes we are good, sometimes we are bad, but why we still coming to the church, we still continue to worship God. It is because the sustaining grace of God help us to overcome our weakness. God sustains our life with his power so that after we passed from trials and temptation, we should know that God is the one who help us.

Conclusion:

How many times we failed from our promise to God? How many trials do we have today? God grace is sufficient to you. God is helping you to become victorious christians. Do you enjoy attending the church worship where in fact you are enjoying to commit sin secretly? Although the Holy spirit is convicting you, you are still continue to sin against God. Brothers you are in a dangerous situation. You are still under the common grace of God but you never experience salvation. This grace is also enjoy by those wicked person.

Did you receive the saving grace of God? Worshipping God is the highest desire of your life. The Bible is the highest authority of living. Total trust in Christ is your attitude and you always praise him and give thanks to God whatever you do, you are doing it for the Glory of God.